Manual therapy includes the application of skilled hands-on techniques in order to treat and manipulate the joints to decrease the pain caused by joint dysfunction and motion system disorders.
---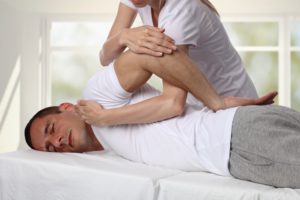 What are the upsides?

Manual physical therapy involves restoring mobility to stiff joints  in order to return the patient to more natural movement without pain. 
Many patients get immediate pain relief following the session, which also helps counteract the effects of body stress and tension.
Manual therapy works through many mechanisms and involves several layers of treatment – the most effective results are achieved when understanding the entire context and taking into consideration physiological, neurological and psychophysiological mechanisms, which all are critical when applying the manual therapy clinically, in a competent and safe manner.
How it works?
As a specific form of treatment, it requires the previous assessment of patient's condition.
Manual physical therapy employs the skilled, hands-on techniques including (but not limited to) both manipulation and mobilization. Both are used by physical therapists to diagnose and treat soft tissues and joints and as a result reduce the pain, facilitate movement or increase circulation and the range of motion, but also decrease myofascial restrictions to improve muscle length, decrease swelling or inflammation, assist in muscle and soft tissue repair, overall body stability and functioning.