Sling therapy is used in numerous orthopedic, neurological and surgical disorders.; round or flat back, flat feet; "X" or "O" type legs, other disabilities causing movement disorders etc. 
---
Benefits
Most of all, this is a treatment form aimed at relief of the joints and the spinal column. Its technique involves suspending the treated body parts from loops or cords, and thus forcing the certain movements under gravity. It is recommended for various disorders of the movement apparatus. 
Sling therapy helps to strengthen the deep, spine supporting muscles and improves metabolism in structures adjacent to the backbone. The hanging position of individual body parts relaxes the muscles and relieves the joints. It consequentially soothes the inflammations and pain. Used as regular training, the sling therapy can increase muscle strength and endurance, enforcing the deep muscles, improving overall stability of the joints and stimulate sensorimotor system. 
Who is it for 
Sling therapy is aimed at people who want to keep a good physical shape, as well as for those with musculoskeletal problems, headaches, back pains, joint arthrosis or post-injuries conditions. It can also benefit the people with sedentary lifestyle or frequent involuntary postures (office workers, truck drivers, hairdressers, etc.), new mothers and women after childbirth.
With sling therapy you can give your body a healthy tone in individual classes with a physiotherapist.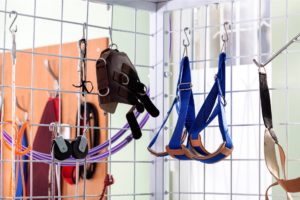 Conditions it can treat: 
Pain of the spine
neck pain
Pain of the shoulder joints
Pain of the hip joint
Disc disease
Herniated discs
Arthrosis
Rheumatic diseases
Muscle and skin shortening
Lumbago
Tension
Cervical spine complaints
Paralysis