Taping is used in physiotherapy to relieve pain, improve joint stability, prevent injury or reduce injury recurrence.
---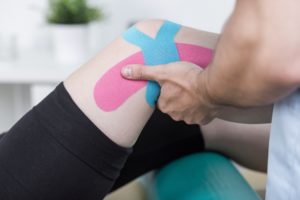 Benefits
Taping aims at stabilizing or supporting an injury, deloading painful structures and relieving pain and facilitating normal movements and muscle actions.
It is often used as an adjunct to other treatments to assist in the recovery or rehabilitation.
Types of Taping
Traditional and Kinesiology tape are used in our treatments. Traditional taping supports joints, protects minor injuries and improves balance awareness. Kinesiology tape can be used in different types of pathologies, among them:
Musculoskeletal pain
Circulatory Disorders
Visceral dysfunctions
Neurological diseases